It can be seen that, thanks to the application of science and technology and product diversification, bananas and banana products are increasingly reaching out, conquering "fastidious" markets and expecting to soon turn bananas into an export crop. "billion dollars" of Vietnam.
Strengths
Vietnam has a tropical climate, is one of the countries of banana trees, from the north to the south, the plains as well as the midlands and mountains have bananas with many different varieties. Banana area accounts for 19% of the total area of ​​fruit trees, with an output of 1.4 million tons. In the Central and Southern regions, there are many localities with large banana acreage such as Dong Nai, Soc Trang, Ca Mau, Thanh Hoa, Quang Tri, Khanh Hoa... with banana acreage from 3,000 to 8,000 ha; In the North, there are Hanoi, Phu Tho, Hung Yen...
Currently, Vietnam has about 150,000 hectares of bananas for farm-scale fruit production. If including small areas of families, banana varieties grown without fruit such as leaf bananas, seed bananas, wild bananas, banana area reaches over 200,000 ha.
With the advantage of riverside alluvial soil favorable for banana cultivation, Hanoi has determined that this is one of the key crops towards export, creating high value for farmers.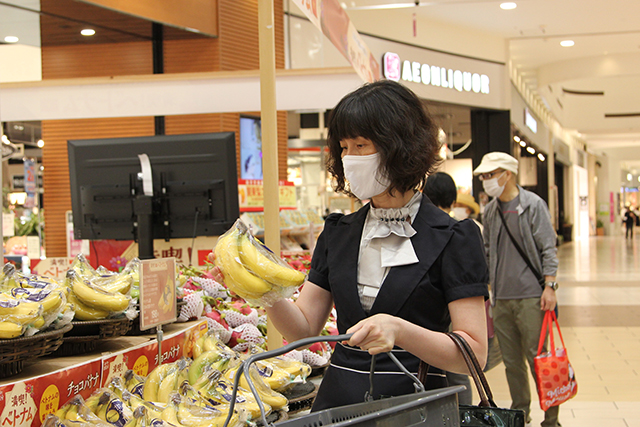 In the coming time, tissue cultured banana varieties will be put into production combined with high-tech application to build a high-quality banana growing area of ​​the capital.
Hanoi currently has 3,294 hectares of bananas, concentrated in the communes of Van Nam (Phuc Tho district), Kim Son (Gia Lam district), Chu Minh (Ba Vi district)... More than 70% of banana area uses banana varieties. tissue culture; In which, 300ha of high-tech tissue culture bananas are grown and this banana growing area is eligible for export to a number of countries such as Korea, Japan...
According to the leader of Gia Lam district, the South American tissue cultured green pepper banana variety is quite suitable for Kim Son soil, so its yield and quality are higher than in other regions. This banana variety gives an income of 300-350 million VND/ha/year, higher than that of normal banana growing areas.
Mr. Doan Van Thang, Director of Yunnan Agricultural Cooperative, said that in 2012, after consolidating and changing plots, the cooperative planted 2 hectares of pink pepper bananas on a pilot basis. Realizing the high economic efficiency, the cooperative mobilized people to expand the area. The commune currently has more than 10 hectares of tissue cultured bananas. This type of banana gives double economic efficiency compared to traditional banana varieties, reaching 250-300 million VND/ha/year.
Hung Yen province has over 2,000 hectares of bananas, concentrated in Ho Chi Minh City. Hung Yen, Kim Dong and Khoai Chau districts. In recent years, the banana growing area in Hung Yen has continuously increased. Even many households also go to the provinces to rent land to grow bananas.
Not only are there effective banana growing areas in Hanoi and Hung Yen, but banana trees are being identified by Bac Kan province to develop the value chain towards organic production and increase the proportion of processed products to improve value. sustainable growth and development, helping to improve productivity, quality, diversify products, expand consumption markets and increase incomes.
Banana is a long-standing crop of Bac Kan. In recent years, banana trees have been grown as a commodity. If in 2015, the province has only about 400ha, up to now, the banana harvest area is more than 1,300 ha, of which western banana varieties account for over 90%; the average yield is 11.8 quintals/ha, the output is 15,500 tons.
Currently, the domestic and export markets for fresh bananas and processed products are expanding. Therefore, in the Project on restructuring the agricultural sector for the period of 2020 - 2025, with a vision to 2035 of Bac Kan province, the banana tree is identified as one of the crops that orient the development of the specialized commodity farming area in Vietnam. local. The goal is that by 2025, the province will have about 2,500ha of bananas, with an output of 30,000 tons, of which 70% of banana production will be put to serve the local specialty agricultural production and processing industry.
As the "capital" of banana exports, Dong Nai province currently has nearly 10.6 thousand hectares of bananas, an increase of thousands of hectares compared to the same period last year. Trang Bom district is the largest banana growing area of ​​Dong Nai with an area of ​​over 4.2 thousand hectares.
Mr. Doan Xuan Truong, Head of Economic Department of Trang Bom district (Dong Nai province) said that this year's banana area of ​​the district increased by thousands of hectares compared to the same period last year. In addition to Thanh Binh commune, the communes of Bau Ham, Song Thao, Cay Gao ... are also converting very strongly to banana cultivation, mainly old banana varieties with tissue culture for export.
Currently, the "capital" of banana honey mold in Huong Hoa (Quang Tri) has more than 3,500 ha; concentrated in Tan Long, Thuan, Tan Thanh... Banana is the main crop of the district and the province.
Let me quote some examples from Tan Long commune - the center of Huong Hoa banana "capital" to see how expensive the main crop of people in western Quang Tri was once. Tan Long has about 1,500 households, 75% grow bananas and get better off bananas. Every day, at Tan Long banana market area, there are 4 banana carts with 60 tons exported.
Deputy Secretary of the Party Committee of Tan Long Commune, Mr. Nguyen Van Minh, shared: The total income of the whole commune in 2019 was VND 180 billion, of which agricultural production (mainly from banana trees) reached VND 121 billion. The average income per capita is also very high, reaching 40 million VND per year.
Take advantage of all the benefits of banana trees
Currently, in Vietnam, banana trees are mainly used for fruit, a few can take advantage of dried leaves, fresh leaves, fresh flowers, banana peels,... Almost 100% of the banana stem is cut off, causing waste. and environmental pollution, banana growers even have to pay the cost of cutting down and discarding the banana stem after harvest.
Before that waste of resources, Mr. Bui Khanh Dung, Director of Musa Pacta One Member Co., Ltd (Hanoi) thought of applying the technology of pressing banana stem to get fibers and "sponsoring" for output products for the customers. Cooperatives, organizations, individuals, or farming households have investment needs on a small scale suitable to their capabilities, in order to both create jobs, help people have stable incomes, and ensure sanitation. rural environment.
Mr. Nguyen Duc Tuan, Chairman of Khai Thai Agricultural Service and Trade Cooperative, said that banana is an easy-to-grow crop and a product with potential for development because from the production process to the final product, all are Maximize and optimize the by-products of the banana industry.
"The trend of the world in general and Vietnam in particular is towards sustainable, eco-friendly development environment and limit the use of plastic, that is a fertile ground for banana fiber products to come to the international market", Mr. Tuan said.
Mr. Tuan said, the cooperative's goal is not only to create jobs for local people, but also to develop Khai Thai's banana fiber to become a spearhead product of the locality and furthermore write the name of Vietnam on the village. World banana fiber market map.
With over 200,000 hectares of banana trees across the country, it is estimated that it can supply about 200,000 tons of fiber per year, bringing in a revenue of about 700 million USD if calculated according to the lowest price of raw banana fiber in the international market today, about approx. 3.5 USD/kg.
The world banana fiber market has formed and developed for about 15-20 years. This is a vibrant market, constantly developing, earning billions of dollars every year.
Banana fiber is used to make a variety of products such as handicrafts, paper of all kinds, to high-grade materials in the automobile and yacht industries, which have great added value. In particular, banana fiber is an environmentally friendly product that does not use chemicals, which is favored by the European market, which is an inevitable direction in the trend of green and sustainable economic development in the world.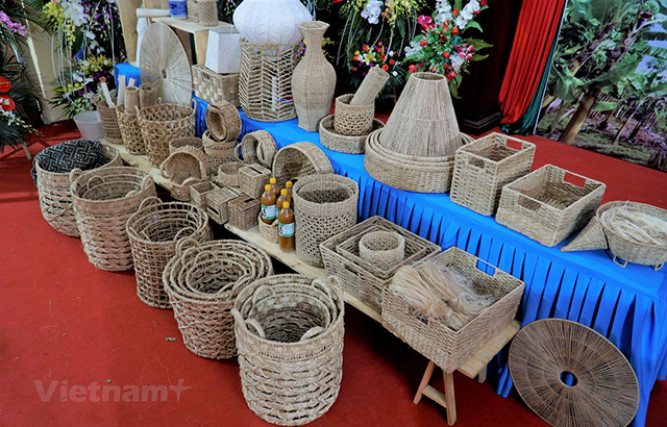 Not only developing the banana fiber market, many localities now have success with organic fertilizer products made from bananas. In Bac Kan, there are quite a few production facilities, cooperatives, enterprises investing in the production and processing of banana products such as: Banana candy, flexible dried bananas, banana wine, banana jam, dried bananas... These products This product is easy to sell, popular in the market. A number of banana products have been awarded the OCOP star at the provincial level such as: Banana wine with yeast leaves, dried bananas, banana vinegar of Tan Dan Cooperative (Bac Kan city); dried bananas of Thien An cooperative (Bach Thong); Dried bananas and banana chips of Hop Thanh Agriculture and Trade Cooperative (Thanh Van commune, Cho Moi district). This is a good condition, a solution to stabilize output for bananas for farmers, step by step develop production linked to the value chain of goods.
In addition, the by-products from banana processing and banana fiber can also be utilized to produce useful products. For example: Banana peel juice in the fiber production process is a very good organic fertilizer for plants. Banana peels, waste products from processing products from bananas can be composted into organic fertilizers that are both good and cheap and increase income. Even bad, inedible bananas can also be fermented to create an organic solution to fertilize vegetables and flowers with very good quality.
Remove obstacles, increase export competitiveness
Although there are many potentials and strengths for development, compared to other major markets, Vietnam's banana production productivity is still not high due to high labor costs and low labor productivity. In addition, the export market is also limited and still depends on the Chinese market mainly.
According to China Customs, in the first 5 months of 2021, Vietnam is one of the largest banana export markets for China.
Specifically, in the first 5 months of 2021, Vietnam's banana exports to China reached 348,261 tons, an increase of 145.08% over the same period in 2020 and an increase of 87.14% compared to the whole year of 2020 (in 2020). Vietnam's banana exports to China reached 339,673 tons).
Banana is also one of the nine fruits that are officially exported to the Chinese market, which is a great advantage for the development of this potential product.
Pham Quoc Liem, General Director of U&N Agriculture Joint Stock Company (Unifarm), said that every year, from after the Lunar New Year to April - May, Vietnamese bananas usually export a lot to China because at that time. China is still cold, can't grow bananas, so it has to boost imports from abroad.
Previously, Vietnamese bananas exported to China were mainly bananas grown by farmers themselves and then purchased by traders for export, so the quantity was not much and the value was not high. The scale of banana cultivation is still fragmented and scattered, so it is difficult to invest, preserve product quality, and consume products with difficulties, and the efficiency is not high. The farming process is not synchronized leading to uneven product specifications. Improper harvesting, transportation, packaging and preservation leads to a high rate of damaged products from 25-30%.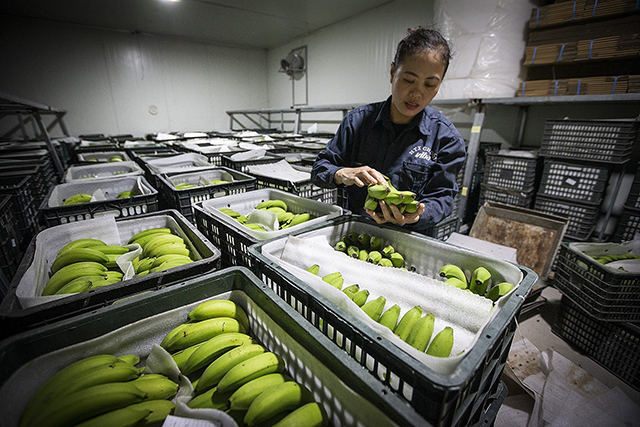 But in recent years, many businesses have invested heavily in exporting bananas such as Unifarm, Huy Long An, Hoang Anh Gia Lai..., helping Vietnam's bananas increase sharply in output as well as quality. Therefore, Vietnamese bananas are increasingly competitive with bananas of other countries and sharply increase their market share in the Chinese market.
Besides, thanks to the improvement in quality, Vietnamese bananas are penetrating strongly into two fastidious markets with great potential in East Asia, Japan and Korea. Currently, bananas produced by Unifram are focusing on strong exports to these two markets.
Conquer the market
In Europe, bananas are a popular fruit among consumers due to their health benefits. So bananas are the number one fresh fruit imported into Europe. Banana has a small production in the European region, so it is highly dependent on external supply.
According to the European Statistical Office (Eurostat), the EU's imports of bananas (including leaf bananas, fresh or dried - HS code 0803) in the 11 months of 2020 reached 7.7 thousand tons, worth 5.26 billion Euros. equivalent to USD 6.36 billion), up 3% in volume and 1.3% in value over the same period in 2019. The average import price of EU HS code 0803 reached 683 Eur/ton, down 1.6 % over the same period in 2019.
Among banana exporting countries to the EU, Vietnam accounts for a very modest proportion, but the price of Vietnamese bananas is quite high. Specifically, in the 11 months of 2020, the price of Vietnamese bananas imported into the EU was at an average of 3,192.9 euros/ton, up 16.4% over the same period in 2019. The average price of bananas imported from Vietnam much higher into the EU than other sources: Ecuador 605 Eur/ton; Colombia 588 Eur/ton; Costa Rica 645.7 Eur/ton…
According to Mr. Ly Minh Hung, Director of Thanh Binh Cooperative (Trang Bom - Dong Nai), the effective Vietnam-EU Trade Agreement (EVFTA) has created an opportunity for Vietnamese agricultural products to penetrate the European market. Europe. Determining the EU as a potential market that the cooperative is reaching, in order to be able to do long-term business in this market, Mr. Hung said, the cooperative will first promote trade through the channels of export companies. has good relationship with EU market. Second, export directly through the representative office of the cooperative in the EU.
"Currently, the cooperative has a plan to export bananas with the European Union and will follow that route. The EU's trading culture is very fair and modern, and payment via L/C ensures finance for small and medium businesses. Before the Lunar New Year, there were a number of businesses coming to ask the cooperative to export bananas to the UK, the cooperative was negotiating a way to transport it so that it was convenient for the importer, "said Mr. Hung.
On the cooperative side, Mr. Hung said, the cooperative is preparing the best product segment to meet the requirements and conditions of customers. "The EU market, once it has done good business with them, is very stable, unlike the Chinese market, which is very volatile," Mr. Hung shared.
At the end of 2020, the cooperative exported the first banana containers to the EU market, which was positively received by EU consumers. Realizing that this is a potential banana export market, the cooperative has built a plan to penetrate deeply into this market.
"Compared to the banana market share in the EU, the amount of bananas exported by Vietnam in general and of cooperatives in particular to this market is not much, but we want to take any step to make sure that step, we do it while learning from experience, so we don't want to take that step. hurry. Once we have built a solid foundation, we will promote exports and organize production more carefully, to better meet the requirements of customers", Mr. Hung affirmed.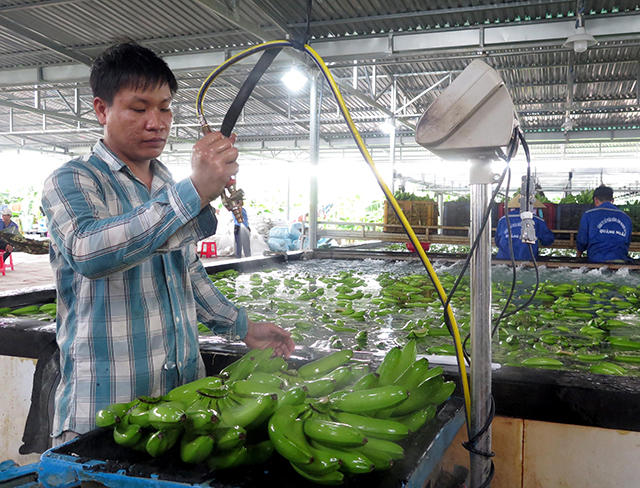 The long-term strategy of Thanh Binh Cooperative is to promote deep processing, which is also the goal of the cooperative. Deeply processed goods have high added value and are less risky than selling fresh. Besides, the cooperative also researched the production of banana powder, the cooperative sent samples of banana powder to the EU and the customer feedback was very good, thereby opening a new direction.
At the Vietnam Product Week event in Japan on June 27, Japanese consumers also highly appreciated Vietnamese bananas. Mr. Soichi Okazaki, Member of the Executive Board of AEON Co., Ltd - the organizer of Vietnam Week, said: "Japan is importing bananas from many places such as Ecuador, Philippines and Taiwan (China), but I Vietnamese bananas are delicious and taste better. In the coming time, we will focus our resources on promoting the import of bananas."
According to Mr. Okazaki, with competitive prices and good quality, Vietnamese bananas have the ability to compete with similar products in the Japanese market.
Japanese consumers also have requirements for nutritious items, so bananas, avocados, mangoes, etc. are very popular in this country. This is one of the advantages for Vietnam to promote banana exports to the Japanese market.
In addition, the Vietnam - Japan Economic Partnership Agreement (VJEPA) has been implemented synchronously from 2010 to present. Japan has strongly reduced taxes on many agricultural products of Vietnam, which significantly increases the advantage for logistics services associated with Vietnamese agricultural products to export goods.
Enterprises actively calculate the long distance
In the past few years, the area of ​​tissue-transplanted banana trees in Trang Bom district (Dong Nai) - the "capital" of banana exports has been constantly increasing. The reason is that compared to other crops, tissue culture bananas have many advantages, such as the fast time from planting to harvesting, which takes only about 8 months. In case this type of tree is not suitable or the price is too low, it is easy to switch to other crops. More importantly, the profitability of banana trees is much higher than that of fruit trees and industrial crops. According to growers' calculations, the average yield of this plant is 50 tons/ha. With the selling price of 10,000 VND/kg of fresh bananas, the farmer earns about 300 million VND/ha.
Mr. Ly Minh Hung said that in the coming time, the cooperative will promote links with farmer households to have raw materials for processing dried bananas and export fresh bananas to other countries. "We already have output, we have production machines. We need the support from localities, departments and branches so that the cooperative can soon complete the relevant legal procedures," said Mr. Hung.
The Economic Department of Trang Bom district said that from the pilot model, the locality allowed it to be mass deployed with the goal of forming a large production area, convenient for production investment as well as inviting businesses to invest. Having approved the large banana tree project, the locality has actively participated in supporting farmers to convert crops; mobilize farmers to specialize in agricultural production and adhere to clean production processes; organize training courses on planting techniques, care and disease control. Along with that, the district promotes investment in electricity and traffic systems, creating conditions for agricultural production and transportation; calling on businesses and cooperatives to join hands to invest in a large banana tree field.
Thanks to the planning and investment in the concentrated banana production area, over the past time, a number of businesses and cooperatives inside and outside Dong Nai province have been cooperating with farmers for a long time. This opens up a new direction for local banana growers, which is to link and process deeply instead of exporting fresh to a market with potential risks in price.
According to Ms. Hoang Thi Hoa, Director of the Hanoi Agricultural Development Center, in the coming time, the Capital Agriculture sector will continue to promote support for businesses and cooperatives to build concentrated farming areas in the direction of VietGAP and high quality. , to suit the tastes of each market; supporting units to invest in product processing technology such as: dried bananas, candy jelly, banana juice, banana fiber... in order to diversify products and types, serving domestic and international consumption needs.
"In the past, traders bought bananas for export according to the number of partners required, so it often happened that farmers had to sell themselves or sell cheaply at the peak of the crop. Currently, they have invested in 4 cold storages to store bananas, in case the gardener returns or the price of bananas drops too low, they still buy fresh bananas and bring them to cold storage for preservation. Therefore, the output is somewhat more stable", said Mr. Nguyen Van Thuat, Chairman of the Farmers' Association of Bau Ham commune (Trang Bom district).
Mr. Ly Minh Hung said that the fact that the cooperative had gone to offer products and knew that the markets of Russia, Japan, Korea and some Middle Eastern countries had great demand and many export opportunities. The current problem is that farmers have to actively change, from small-scale production to cooperation and association with businesses and cooperatives that produce goods; from production according to traditional experience to applying science and technology to save labor and costs. Do not invest for the immediate profit for the sake of quality in order to have good products and good prices.
For banana trees to become a billion-dollar tree is not an overnight thing, but need the participation of businesses, farmers, and related ministries with policies that both promote the application of technical advances, diversify products, increase value for each item, and promote expand the market and take full advantage of the benefits of banana plant parts.